This article originally appeared in December 2012 on Naomi Bishop's blog. Below is a snippet from Naomi's dining experience around the Hawaiian Islands.
Like so many of our trips, our Hawaii vacation quickly spiraled into 'research.' As in, I carted us all over creation looking for the best bites the islands have to offer. If you've been watching my columns on Serious Eats, you might have seen me talk about some of the things I ate. But right here, right now, I'm going to tell you about the seven best bites I had in the seven days we spent in Hawaii. **Note: The Hawaii Visitors and Convention Bureau helped out with my transportation and lodging costs for this trip, though I chose all meal locations and paid for all meals, except where noted. 
Spam Omelet, Liliha Bakery
I can't explain what made this so good. Maybe it was the fact that it was 2 in the morning local time (5 in the morning on the time I'd woken up on), and I was in a new city with an old friend, who, it being Halloween, was dressed as Magnum P.I.–complete with eyeliner-applied chest hair and all. The salty meat was chopped up with nicely caramelized onions, the whole thing had the inverse ratio of messiness to deliciousness down pat. Friendly locals on the other barstools were happy to opine on our ordering, and it just felt right. Not pictured? The buttery bun with secret-ingredient house jam that came with.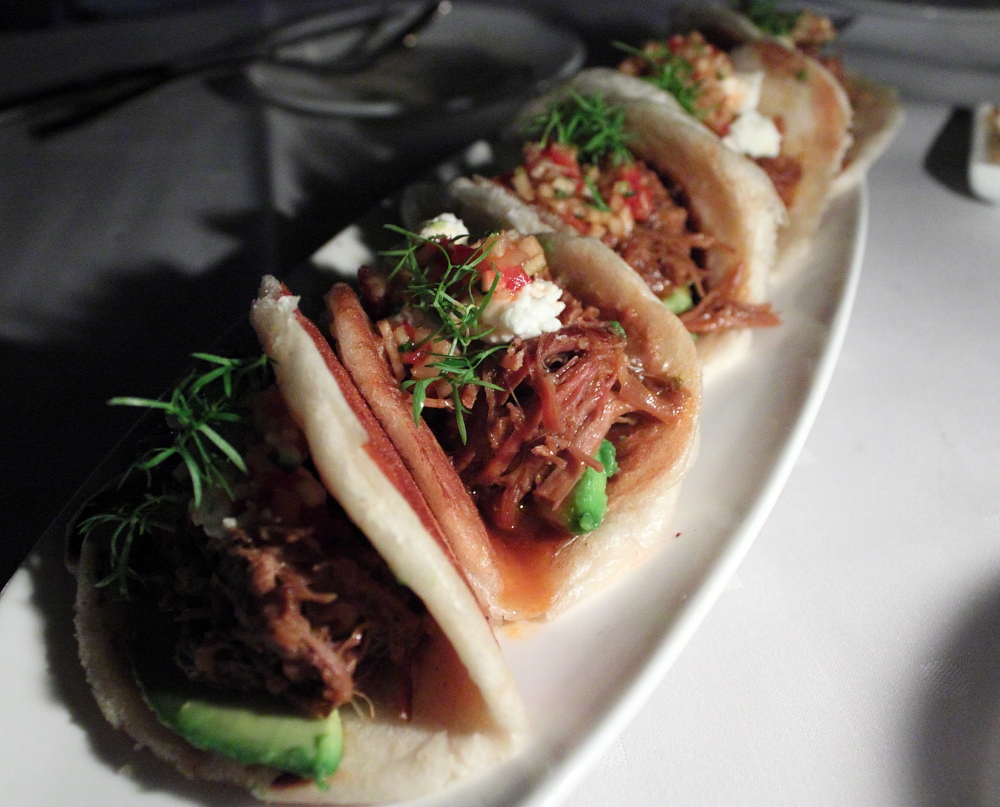 Goat Barbacoa Tacos, Canoe House
It was actually a set menu media (read: free) dinner at this fancy-pants restaurant, and these were not on the menu. Luckily we were seated next to the PR lady, who kept mentioning things. House-made local-pig bacon? "Oh, would you guys want to try that?" She'd ask, innocently. Um, yes, yes, we would. "Oh, you guys like goat?" She wondered. The five people within earshot all started babbling incoherently at high volume about how much we love goat. "Chef will bring out his goat tacos," she said, calming us down. We were not prepared for this. Yes, what's inside is falling apart local goat meat, 'Korean-braised' according to the menu, and it was incredibly good, especially with the crisp daikon salsa on top. The clincher, the thing that made me declare this one of the best bites of my year, though, was that the whole thing was wrapped in a flaky pastry. She called it a bao bun, but it was less like a soft Chinese bao, and more like the crispness of a scallion pancake. It was the perfect foil for the soft goat, and I was won over.
To continue reading about and viewing photos from Naomi's Hawaiian dining experience, click here.
Naomi Bishop is a Seattle based food writer whose musings can be found on her food blog, TheGastroGnome, where she claims that being a GastroGnome is not about sitting idly on the front lawn of culinary cottages. You can also follow her explorations of cooking and culture around the world at @GastroGnome.